So I finally got to see the surprisingly funny animated comedy titled
Boss Baby
SPOILER FREE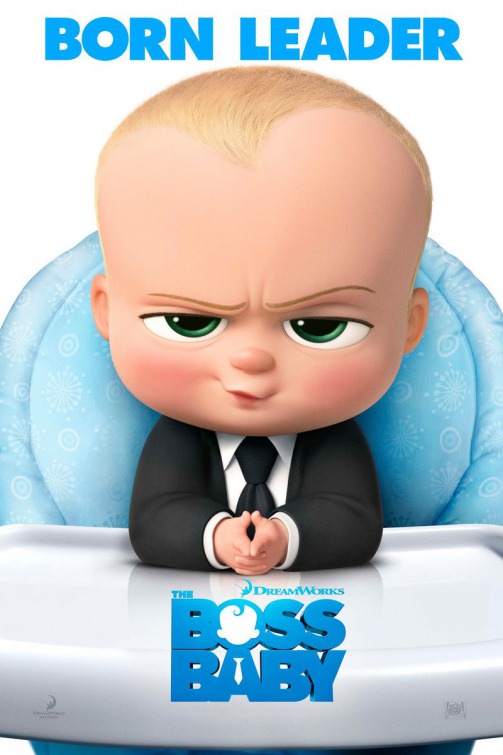 Before going into this movie, I will admit first and foremost that I was not drawn to the film at first due to it's poor marketing that didn't appear to catch my eye. I was not happy that the film dethroned Beauty And The Beast from it's box office glory of being the number one after it's first two weeks. Unlike other animated films that came out this year such as Pixar's Cars 3 or Despicable Me 3, I didn't see much appeal in this film until I saw that Alec Baldwin was playing boss baby then I became interested in it. Despite my reservations about the film, I decided to give the movie a chance as I feel true moviegoers would give it the benefit of the doubt before passing judgment which many critics also made the same conscious decision. Having seen Boss Baby, I can say that while the film was not a great animated film by any means, it was a surprisingly decent and often funny flick.
Boss Baby is charming, clever, witty, and visually stunning as it takes it's talented cast among the likes of Alec Baldwin, Steve Buscemi, Jimmy Kimmel, and Lisa Kudrow, and creates a reasonably satisfying film. The film is a cartoon that looks and feels like an actual cartoon that is given life through it's goofy nature and sheer energy. The film never takes itself too seriously, and it's probably best that it sticks to that strategy of being entertaining without trying to break it's comfort zone. In terms of the films visual style, the animation and special effects are superbly done and constructed that doesn't take away from the movie but adds to it's charm with moments such as the baby's drool falling from it's lips or a close up of its eyes, giving the character and story moments of genuine texture and emotion. In regards to the films message, the movie doesn't say anything other than there is more than enough love to go around in loving families. The films premise fits into this theme as both boss baby and his 7-year old brother fight for the love and affection of their parents while working together to foil the wicked and cruel plot involving the CEO of Puppy Co. With Alec Baldwin's brilliant and comedic performance, he makes the film highly amusing as well as giving boss baby an extremely likeable presence. As a children's film, Boss Baby is simple, sweet, and a good deal of fun if one doesn't it too seriously and just allow it's charming side do the work. Baldwin's performance is not only awesome here but he manages to warm your heart at times with his relationship with his older brother with the story essentially being about sibling rivalry. Despite the movie having genuinely funny moments, they come far in between as the rest of the film rests on a plot that isn't quite the strongest. For that reason, Boss Baby is a decent animated comedy instead of being a great and memorable one.
As far as family films go, Boss Baby is one of the more unappreciated animated films of the year, as it's much better than what the critics made it out to be as well as the films lackluster marketing. Despite the film having a rather paper thin plot, it's the performance of Baldwin and the rest of the supporting cast that makes the movie entertaining to watch as well as heartwarming with it's message that there is more than enough love to go around for siblings in a family that genuinely loves and cares for each other. For young children as well as adults, they will fall in love with Boss Baby while the adults getting a surprise with the films humor. Boss Baby is a movie that may not satisfy audiences in it's story department, but will entertain and even surprise in it's humor and energy department.
7 out of 10