With
Atomic Blonde
, John Wick has finally found his action movie rival, a blonde Spy.
2017 has been a strong and powerful year for women in regards to be immortalized on film. With Patty Jenkins
Wonder Woman
becoming the biggest movie of the summer and surpassing expectations both financially and critically, audiences receive another dose of a lead female character kicking ass, except this time it's not a comic book origin story but more within the realm of being a John Wick and James Bond type of female action heroine. While there have been strong female action heroine characters done before such as Sarah Connor from the
Terminator
series or Ellen Ripley from
Aliens,
it's rare to find female action heroine character driven films that have been done that actually turn out to be genuinely good.
Atomic Blonde
was not the box office smash
Wonder Woman
was this past year, but it left a notable impression with critics and audiences.
Atomic Blonde
is the female equivalent to John Wick and Daniel Craig's James Bond, being every bit as exciting, action-packed, stylish, and hip with a strong cast, appealing soundtrack, and a female character that's both sexy and engaging to watch.
Atomic Blonde
is further proof that Charlize Theron is one of Hollywood's greatest action movie heroines.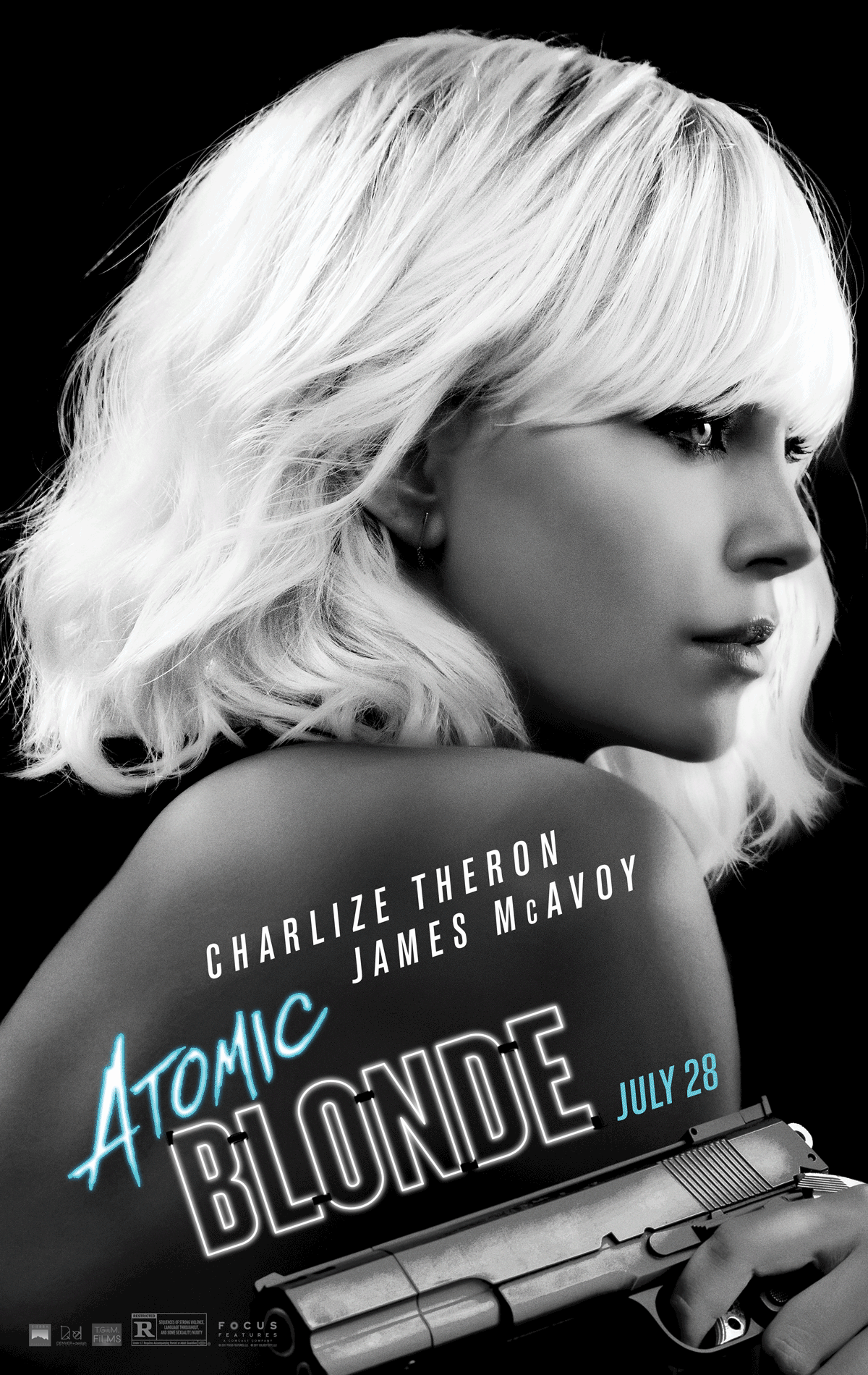 Charlize Theron has proven herself to be quite an actress with her Oscar winning turn as the female serial killer in Patty Jenkins directed Monster, and delivering a strong female action heroine presence in the box office flop and critical dud Aeon Flux based on the popular MTV liquid television series. While that film didn't capture the randomness or high level energy of the TV show, Theron proved that she has what it takes to be a female action star. Her performance in Mad Max:Fury Road further cemented the belief that she is Hollywood's go to actress for making female action films such as Atomic Blonde, with her performance in Fate Of The Furious as the films antagonist also proving she has it. Atomic Blonde is done in the same style as Keanu Reeves John Wick films with high-octane action with insane choreography and brilliant Cinematography. Theron's character feels as if she's a cross between John Wick, Daniel Craig's Bourne, and a touch of Matt Damon's Jason Bourne. Atomic Blondes plot centers around an undercover MI6 agent being sent to Berlin during the Cold War to investigate the murder of a fellow agent and recover a missing list of double agents. The storyline for the film is not creative in the sense that it borrows heavily from familiar plots within the Spy genre, however it is Theron's appealing and striking character that makes the film exciting to watch for audiences. It is the stylish action sequences and Theron's magnetic presence that make the film what it is, while making up for the rather generic plot.
As a female centric Spy thriller,
Atomic Blonde
isn't perfect but makes the most of it's plot with it's appealing star, fast-pacing, and strong performances from it's supporting cast which also includes
X-Men's
James McAvoy whose excellent as usual, John Goodman, and Sofia Boutella. The films Cinematography is also among the films high points with the films coloring, particularly the club scenes and the blue lighting used in the earliest scenes with Theron's character rising out of the tub, is perfect as it sets the appropriate mood and tone for the story. The films soundtrack is terrific and also adds to the high energy of the film, making it fit right in line with the 1980's setting of the film taking place within the Cold War. As far as the films action goes, it's much stronger than the plot that holds the whole film together, putting it on par with the action seen in both
John Wick
movies. The big staircase fight sequence between Theron's character and a set of baddies is the most impressive hand to hand combat sequence in the entire film as it runs long but never becomes boring as the audience can't take their eyes off what's being shown. As far as technical aspects, the film is impeccable and looks great as an action movie and Spy thriller. The style of the film is appealing with the absurdity of the action and plot making it quite numerous at times. The main issue with the film's plot is how hard it tries to be clever and twisty, it's noble that the filmmakers try to make the story more original despite the fact that the stories cliche's and turns have all been done before in other Spy films.
To put it bluntly,
Atomic Blonde
is nothing special outside of being a standard Spy genre buildup with its plot, but it's main female character elevates it to being something the audience can find excitement in watching. Theron is simply awesome here and does a great job making the audience believe that she's a Spy while finding her desirable both as an action star and in regards to her sex appeal. Theron's acting and the film's impressive action and fight sequences make
Atomic Blonde
a worthy installment in the Spy genre while opening more doors for female actresses to take on the popular genre with different roles.
Atomic Blonde
is an action film first and foremost, and no one should go into watching it for anything else, but to watch a badass female protagonist played by the highly talented Charlize Theron delivering crushing bones and faces in fights that require long takes but are stunning to watch. With
Atomic Blonde
, Theron is proof that a female can step into the shoes of a James Bond type character and create a worthy rival, that's equally cold-as-ice while being an figure of lustfulness to love interests who come around them.
Atomic Blonde
is one of the better action and Spy flicks of 2017 as it rides off the performance of its main female star who proves that she's more than capable of having an action movie franchise other own in the same vein as James Bond and John Wick. For Charlize Theron's masterful performance alone,
Atomic Blonde
is a must see.
Final Verdict: Buy IT